Appearance
porcelain with pink peeking through around pale sky-blue and nose. mouth and rump/tail are splashed with rust-red. further pink, hidden by thicker fur, marks strange scars on his back about where his shoulders are-the only evidence of wings not permitted to follow him to this world. he's had some minor dental work in his previous life-how that happened, he doesn't remember, just knows there are a couple gold-wrapped teeth secured firmly in his jaws.
His physicality is based on the Oldenburg breed though his coloring does not occur in purebred Oldenburgs.
He was a pegasus in his previous life with double wings.
Height is in hands (16 hh)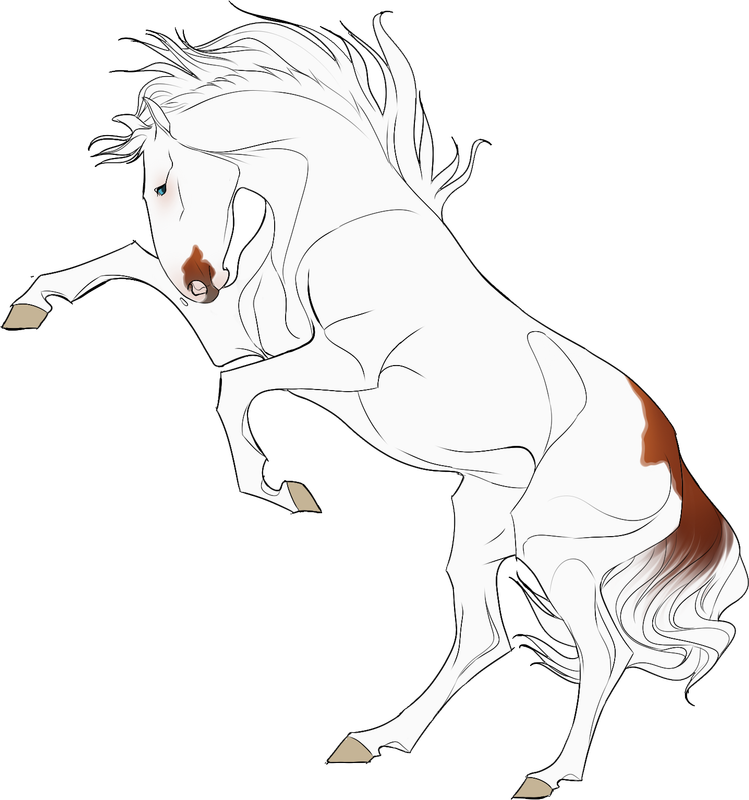 Personality
king with no crown, god with no divinity. a blessing now living a cursed life. distraught that he can no longer take to the air.

less afraid of predators than your average horse. no stranger to violence but at heart, compassionate. a natural leader.
History
once upon a time, there was a beautiful prince born to the kid and generous leaders of the cypress kingdom. a double-winged child of the light, he was certain to be a worthy successor of the grand legacy his parents would one day leave behind.

crispin received a year of peace, love and safety before a violent coup would get his family killed, himself nearly so, hunted and alone in a world that had suddenly become much bigger and much scarier. eventually, he was taken under the wing of a mercenary and taught his ways.

The last thing crispin remembers is being caught in a fight that would take his mentor's life, a blinding flash of light, and his waking in canis.