Aries is currently away. Returns: 12-09-2022
— super slow - finals crunch season
AVATAR CREDITS: Wiegmannor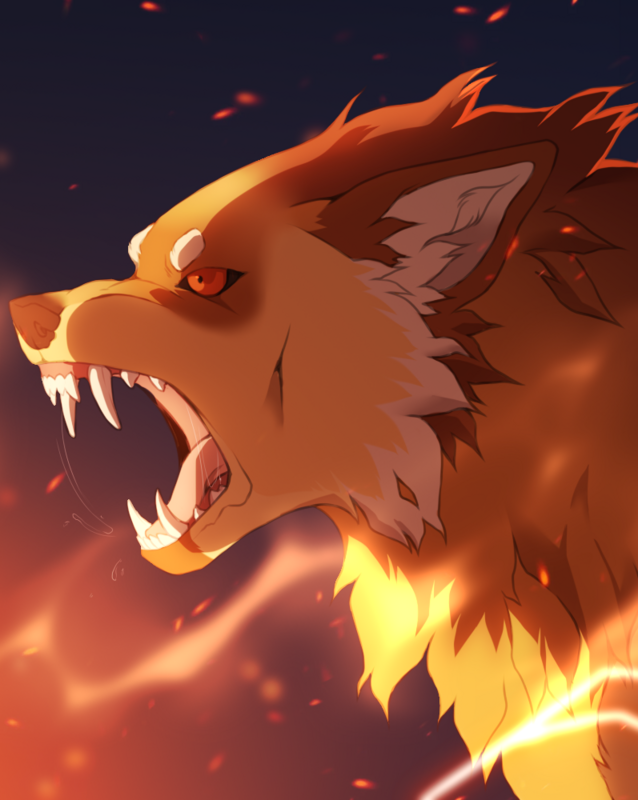 Aries

Name
Aries
Height
Tall (35)
Fur Color
Golden Sable and Orange
Sex & Gender
Male
Weight
Medium (127)
Eyes
Red
Age
4 (24 March, 2018)
Build
Athletic
Species
Gray Wolf
Appearance
"Ain't no god on my streets
in the heart of the jungle"

---
Standing tall above the average wolf, Aries easily catches the eyes of those he meets with a pelt as gold as the sun itself. Tan points accentuate his body along with a cape and neck of red. Well-built muscle shows through his short fur along with various small scars just slim enough to not be prominent at a glance.

Some might consider him handsome, though his personality might make one reconsider. Born with an anger streak, it seems almost fitting that he dawns a red mask as blinding as his rage. Aries might appear casual from afar, though it is very easy for him to cross the line to intimidating.
Personality
---
Larger than life and as hot as the sun, Aries is a passionate man with a dangerous streak. Once he has made up his mind he is wild and mostly uncontrollable, often seeking out new forms of entertainment usually at the expense of others. That being said he is surprisingly loyal to his pack and will do what he can to please higher-ups, perhaps as a way to make up for what trouble he brings.

When he is in a good mood it will be obvious, even if the situation at hand is anything but good. On the other hand, his rage knows no bounds and few can quell his thirst. It would be best to not get on his bad side as the man has a horrible habit of holding grudges.

Pack History
NIGHTWALKERS
—
3/30/21 to present
Fun Facts
Known Languages
— English
Local Time
11-29-2022 at 04:23 AM
Member Since
01-08-2021
---