Ari is currently away. Returns: Unknown
— physically and mentally exhausted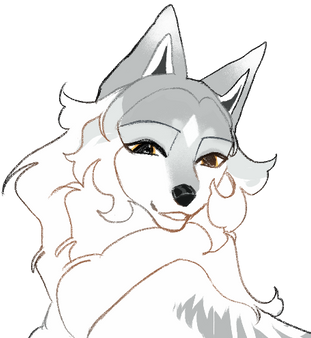 Aries
DREAM ABOUT US

Name
Aries Winterwald
Height
Tall
Fur Color
Snow-kissed with silvers
Sex & Gender
Female
Weight
Light
Eyes
Glory Yellow
Age
3 (20 December, 2019)
Build
Petite
Species
Tundra Wolf
"TRUST WHO YOU ASPIRE TO BE."
---
Quaint and gentle, willow in form of elegant and warmth. She is light within step and holds a form of quiet sophistication in her gaze and posture, she is never one to look down on others, as always a smile and an soft golden look is upon her. Fae in form, coated within tundrian lineage of grays and whites, she is majority of lighter tones that bring a homely and warmly feeling despite her frosten origins.

Lightly taller then average, over slender in form if not for her other parts that exaggerate what looks to be a plump coat, such as her lovely mane and overall long, elegant tail. Long legged like the elks of the northern forest. Her fur is carefully groomed for silk and shine, a clean and bright persona. Although as much as she tries to hold herself firm and light, she has her own moment of weakness , but tries her best not to show others this form.


disclaimer: tail in art is a length exaggeration
---
LAWFUL GOOD · STRAIGHT · SINGLE · SMELLS OF PINK LILAC VANILLA
---
"SEE ALL THAT THERE IS TO SEE."
---
---
---
LINEAGE
Father is a perished king.
Mother is an deceased beauty.
Younger sister is @
Wren
.
CHRONICLES
DUSKGUARD
WINTERGLADE
FROSTMIR KINGDOM
Fun Facts
Languages


Origin of French, but mainly knows of Finnish & English.



Gait


Her step light and graceful, one paw before the other, almost as if she is walking on air. Although not of nobility anymore, she was taught to be akin to one.



Talents


A parchment for nursing through knowledge, but a still learner. She has an adoration to singing and dancing and can be found within her own time doing one or the other. Although with her stature as well, she is a well-adept hunter.