Euphemia is currently away. Returns: Unknown
— physically and mentally exhausted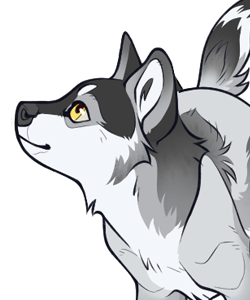 Name
Euphemia (yoo · fee · mee · uh)
Height
Short
Fur Color
Grayscales
Sex & Gender
Female
Weight
Very Light
Eyes
Yellow
Age
10 months
(2022-07-22)
Build
Lean
Species
Mixed Wolf
"DO GOOD AND GOOD WILL COME TO YOU."
---

Dressed in fine silvers, Euphemia is a sylpth within wolven form, they take much after her mother, Olive. She is fine-boned and light, although rather short she gives off the illusion of being tall and slender with her long legs. Like walking upon water, her step is blessed with a light graceful gait of a fairy. Overall the enamour of a pleasant and warm canine, she is not without a smile that matches the sun on her very sight. Sleek in fur though particularly graced in more plump areas, Euphemia is a twin-set to her sister Aurelia, and the only difference being is the eyes on their face, and the difference within personality altogether.

Overall a kind soul, an energetic and a slight linking to nature itself, she has an affinity with the tune of others. An attempt to take the shackles of others troubles upon her darker gray crown, a desire to do good within the world around itself. She learns well from her family, a strong bonding toward those she counts as so and trusts those closely. She tried to not trouble others but can be caught up in her own emotions. An endless smile on grayscale form, she is not one to falter from it. Maybe delicate at heart, but she has the patience to let the world destroy her so.

---
NEUTRAL GOOD · STRAIGHT · SINGLE · SMELLS OF LILIES
---
"LIFE IS TOUGH BUT SO ARE YOU."
---
---
VOICE OF ELAINA · THEME OF ???
---
---