West Tyree is currently away. Returns: 12-09-2022
— super slow - finals crunch season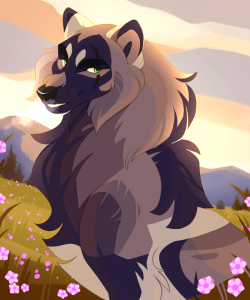 West Tyree
Name
West Tyree Apaata (West Tie-ree Uh-pa-tuh)
Height
Very Tall (37)
Fur Color
Browns and Cream
Sex & Gender
Male
Weight
Heavy (167)
Eyes
Emerald Green
Age
3 (17 April, 2019)
Build
Athletic
Species
1/2 Mackenzie Valley 1/2 Northern Rocky Mountains Wolf
---
Let your eyes look up upon me for the better
---
Appearance
---
West's pelt holds an agouti taking on more browns from his mother's side of the family- yet holds a dark roan from his father's side. He has a dark face, with bright green eyes and a band of light stretching across his back that derived from his father's genes.

Long thick fur covers his body making him appear wider than he actually is. After his first pack hunt, West received a large scar over the left side of his face stretching from his cheek to his brow from a bison's horn.
---
I ain't no Superman, I ain't no Holy Ghost
---
Personality
---
West is perhaps best described as unknowingly charismatic. While he may not be the best with words and a little thick in the brain, he is a friend for life. Full of energy and passion for the things he loves, he is always ready to give it his all. Unfortunately, this sometimes leads to him rushing headfirst into situations without giving much thought.

West may appear to be a gentle jokester, but he is far from it. Forever loyal and protective of those he holds close, he is not afraid to defend against injustice or wrongdoings if something does not align with his personal views of good.
---
I'll be your strong man, I'll be your west coast
---
Allegiances
---
EMPYREAN
—
4/2/21 to present
LONER
—
1/6/21 to 4/2/21
EASTHOLLOW
—
4/17/19 to 1/6/21
---
And my love I won't give up
---
Fun Facts
---
Known Languages
— English
— Inuktitut
— French
Scent
· Moss
· Earthy undertones
---