Appearance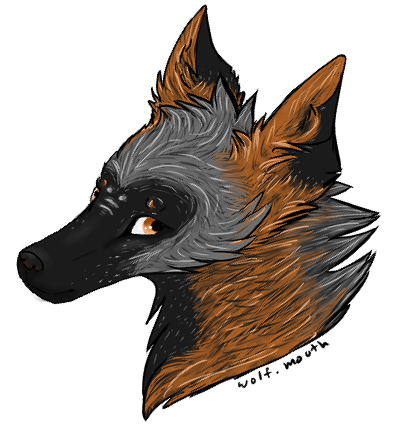 A black base with blazes of red orange around his ears and down his neck, only breaking at his shoulders before running along his side and underbelly before meeting an end at his rear and base of his tail. He is ticked and speckled with a coat of gray where the orange meets the black, with the black becoming darker towards his extremities such as the back of his ears, his nose, and his feet. His tail, however, ends with a tip of ash colored gray.
His eyes match his appearance with bright amber colored eyes.
Personality
Despite his fiery visage, Lasair is very levelheaded and peaceful. Strong in his own right but, calm for the most part. Not afraid to use his teeth and claws to defend himself, though he would much rather use his words. He is spiritual but, tends to be quite closed off about it. Not that he sees it as a weakness but, afraid that most creatures would not understand his own depth.
He is kind, sometimes goofy and playful with those he gets comfortable around and is good for his occasional humor.
Lasair can be very knowledgeable as well and has an excellent memory for keeping track of spiritual matters and ecology, particularly herbology and plant life. One may fancy him a healer of sorts, to which Lasair does not shy away from a bit of praise.
Pack History
Current: Circle of The Moon