Bacchus is a family of Mackenzie Valley Wolves, selectively bred for particular traits by their ancestors. These traits are natural mutations from real life and do not cause major health risks or issues. While there was initially line breeding/inbreeding generations ago, at this point, there should be no genetic issues from past line breeding.
---
Roman Nose
Perhaps the most noticeable trait common within the Bacchus family is the roman nose.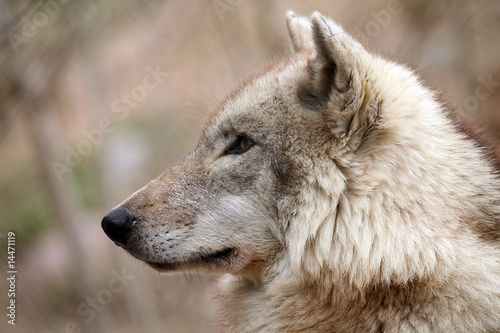 Downwards Snaggle Teeth/Big fangs
Common but not universal are fangs that stick out of the Bacchus wolves' lips, sometimes long enough to reach the chin - but no further.
Polydactyly - 5 toes.
Each foot on a wolf of strong Bacchus lineage has five true toes, pleasantly laid out and unobtrusive.
Rear Dewclaws (often double)
Similar to Great Pyrenees, Bacchus descendants will often have rear dewclaws, sometimes double.
Tapered Ears
Not as common, but Bacchus descendants may have ears that are naturally tapered and slender.
Webbed Toes
The natural webbing of their toes is greater, similar to Newfoundland and Retriever dogs.
Shorter Tails
Bacchus wolves often have somewhat shorter tails.